August was lots of work, followed by my first vacation in 3 years. Pervers/Cite was incredible, but somehow felt like it had less dynamism than last year. The big Cabaret Faux Pas that I organized with Jordan at Cleo's was a massive success, selling out (250 capacity) and then having to turn about 60 people away at the door. The performances were magic, the dance party fierce and everything worked out in the end (despite the venue being sketchy to us, the security staff being intimidation machines who obviously were on a power trip, the head house queen being a sneaky meanie and one of our performers being a righteous bitch with a show-stopping coke problem). In any case, the vogue troupe Kiki House of Pink Lady gave a performance that brought 250 to their feet (literally) and totally changed MTL forever (imho).
Other Pervers/Cite High Points:
- The vogue workshop given by the pink ladies where 20 of us learned how to work it from the cunt (best workshop I have EVER attended).
- Sitting on Jordan's face, in retribution for having forgotten, as hostess at Faux Pas, to mention that I had been the co-curator/organizer for the event.
- hanging out with damien luxe and talking shop
- visit from Zinnia(!) which resulted in a 3 hour brunch where some really amazing things got talked about and realized.
- Heavy Filth, all lady metal band from Toronto
Right after Pervers/Cite, ML and I got into their car and drove to PEI (along with Laurence who caught a ride to Moncton). We spent 10 days visiting my family and having a generally wonderful time, on a real, REAL vacation (100% NO WORK, a first for me in 3 very long years).
Again, since I love point form, are my fav moments:
- Trying to get ML to pet one of the horses at the barn, but ML preferring the barn cats.
- The first race ML ever watching resulting in my father's horse winning and all of us running to the winner's circle to have our photos taken.
- The gold cup & saucer parade, which included little toddlers dressed as oysters for the oyster festival float.
- Riding 35kms to the beach on our bikes (4 hours) and then spending the rest of the afternoon until almost sunset, reading books in the sand
- Taking a 2-day 80km ride along the
transcanada bike trail
, from St. Charles to Charlottetown, with a stop for a night of camping on Travis and Reece's newly purchased land, Homo Hill.
Since returning, it's been a mad dash to complete work and tie up loose ends with my government contract. After 3 gruelingly traumatic years working in this archive, my contract is officially over on Oct.1 (though I've actually already completed my work as of yesterday and am free already!). It's scary to be out of work and looking for something new because I am the type of person who needs to nest and be stable, but I have to admit that ending this contract is the best thing that's happened to me in a long time. I realize now that I have been HATING my work for the last year and a half, that I've been suffering from vicarious trauma due to reading so many reports of abuse, that I've been isolated and really struggling, that I've hated my work so much that logging in caused panic. And now? Now I realize that I should have left a long time ago, but better late than never.
At the moment I am trying to no dwell on all the negative shit that's come from that work and all the bad things than I feel have been happening a lot lately. Instead, I am trying to look at the good things in my life and get stoked on new adventures and changes for the better.
Oh, and another awesome thing of late? Jordan and I got "platonic married" in the portuguese park as part of Coral Short's platonic marriage project at the La Centrale gallery. It's all about celebrating the bonds of friendship... and let me tell you honey, we looked FIERCE!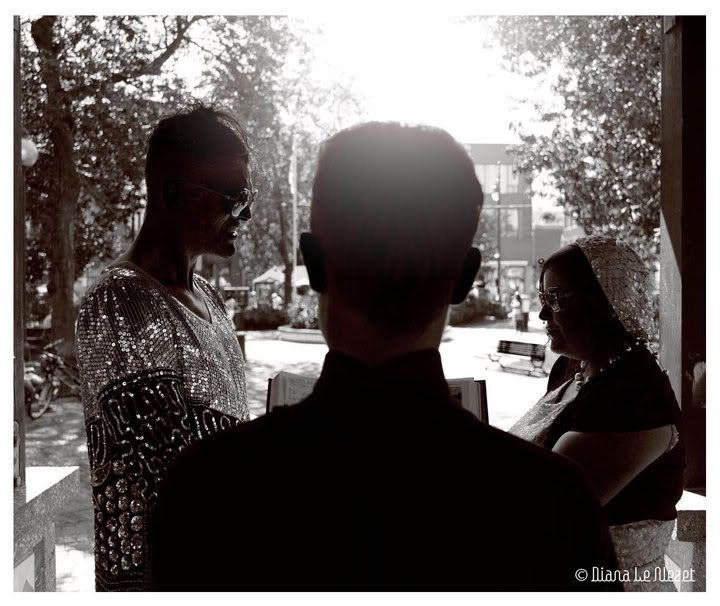 Our vows were: "I promise to always tell you when your outfit is ugly, when your romantic choices are stupid and I promise to never ever forget cream for the tea." It was beautiful. We exchanged apartment keys instead of rings!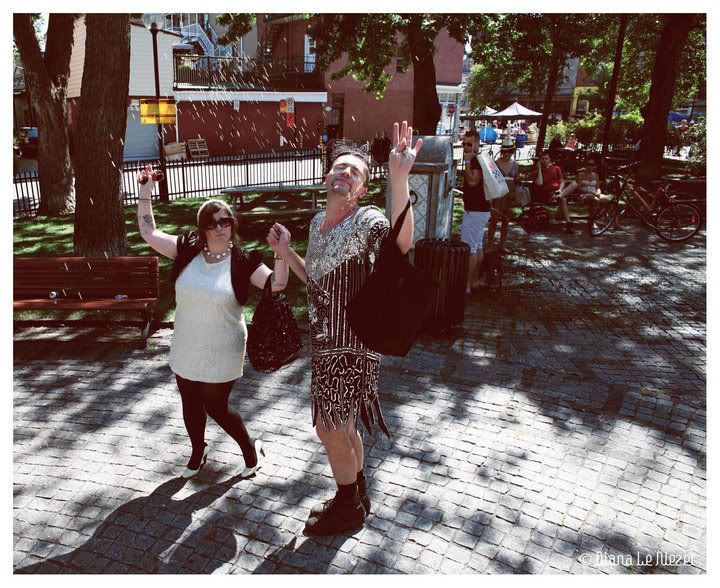 love those heels, btw. i've owned then for 3 years and this is the first chance i've had to wear them... i guess a closet goth like me needs to break out the colors and whites a bit more often...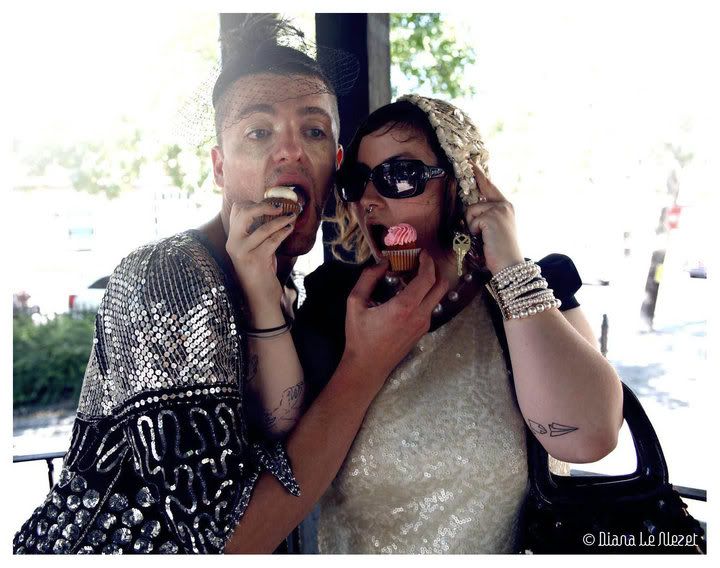 Thank goodness for my facehusband!
*both photos are by Diana Le Niezet